Renowned AMP Website Development Company
AMP (Accelerated Mobile Pages) is the latest technology to build and optimize fast loading web pages on any mobile device. Google developed Accelerated Mobile Pages in October 2015 to make the mobile web faster for users. According to research, there are approximately 1.699 billion AMP pages from 861,000 domains, with 34.99 million new pages that have been added every week. Thus, its time to choose the AMP web pages to attract more users.
We at CSSChopper design and develop the extraordinary AMP websites that lead to conversions and achieve business goals. Our manifest strategies empower clients to effectively engage with new customers, sustain existing users relationships, and accomplish their online marketing objectives.
9 AMP Developer Tactics to Make Extravagant Web App
increase in efficiency

increase in efficiency

Our seasoned AMP developers use AMP while creating your website to improve the efficiency of your website or business and attain more sales. This will help you increase conversion rate.

flexible engagement

flexible engagement

Web pages, we publish in the AMP open -source format load immediately that give a smooth and more engaging experience to the user on desktop and mobile application.

mobile friendly

mobile friendly

AMP is accessible to all the devices that cover more than half of the customers across the digital world. Thus, with AMP, we create exceptional mobile solutions for your business.

accessible framework

accessible framework

We create fast loading mobile web pages by using AMP accessible framework to distribute content material easily on web pages for better user experience on mobile devices.

seo optimized

seo optimized

Our developers create AMP-optimized content by using AMP CDN (Content Delivery Network). Thus, there is no need to customize your content as the search engines can easily discover your page.

lazy load images

lazy load images

Sometimes, heavy images do not open on mobile devices. But, with the help of AMP, we make images load fast and produce the great user interface towards your website.

navigate site easily

navigate site easily

AMP designed website is easily accessible on small screens as well. Thus, the website we create can be easily navigated by the user on their mobile and can get rid of the hassle of not being able to search the desired product.

reduced load time

reduced load time

By optimizing font size, compressing image and avoiding heavy formats, our AMP experienced developers design the perfect website that takes less time to load and helps to retain the interest of customers with accuracy.

asynchronous javascript

asynchronous javascript

We use AMP Asynchronous JavaScript while creating website. JavaScript is a fantastic way to enhance the speed of any web page because it does not include render blocking technique that stops browser to run the web page.
6 plugged-in AMP features to generate blue-chip outcome
Being well-versed with the modest technique, our AMP developers integrate custom features to build striking AMP website that runs on every device smoothly.
amp-add

amp-add

With AMP-ADD tag, we derive all the website functionalities with a different tag name via hyper text transfer protocol system.

amp-validator

amp-validator

We at CSSChopper use AMP-validator testing tool to check the validity of one or more URLs for accelerated mobile pages to find any error.

innovative and faster

innovative and faster

With AMP, we build faster application that will be beautiful, engaging and innovative. It will surely attract more users towards your website.

light-weight version

light-weight version

By using lightweight AMP version, we improve the mobile visitor's traffic to your website by enhancing the loading speed of web pages.

flexibility

flexibility

With the proper use of AMP, we present the latest content according to vendors choice while maintaining key performance indicators.

installation

attractive layout

By using AMP, we provide a set of distinct layouts to specify that how a component behaves in the document layout.
Astounding AMP Design and Development Services
At CSSChopper, AMP development services are performed by well-versed team of AMP web developers. Our best AMP developers design high-performing AMP websites that are accessible across all devices and distributed platform. Our AMP services include
Smooth and Elegant AMP design
AMP Web development
Social Media Marking integration
Ecommerce solutions
SEO optimized designs
Cutting-edge AMP Integration
Cost effect AMP Campaigns
Corporate AMP website development
Cross-platform Mobile App development
AMP Template design
Custom AMP development
AMP HTML service
what we do to improve website performance with AMP?
With AMP, our developer evaluates your website on mobile easily.
We are skilled to work with the significant modules of AMP that increase the website performance.
Our AMP created website design will help you improve ROI.
We utilize each tool of AMP for proper reusing, organizing, and structuring of the content and other elements.
We at CSSChopper implement tactics of AMP efficiently so that the pages load super quickly.
We comply with the W3C coding norms and follow all the standards for developing AMP website.
Follow a steadfast approach to recognize and reduce issues which can slow the process.
Our AMP developers build a fascinating UI for your webpages and magnify its user experience.
CSSChopper delivers thriving AMP web development
We at CSSChopper know how to harness this power to create AMP websites that are easy to use and attract to targeted audiences. Our seasoned AMP developer assists you to adopt AMP web design to enhance SEO visibility, user experience and mobile traffic.
objectives to appoint CSSChopper to hire the best AMP developer
At CSSChopper, we provide flexible engagement models including full-time hiring, weekly and bucket hour TM support.
With AMP, we reduce time & bounce rate of the development process.
We provide universal compatibility of website with AMP by delivering customized content.
Our team of AMP developers has experience to tackle the most complex and different AMP projects including start-up to enterprise level.
CSSChopper has good ability to promptly develop and expand your mobile pages through global brands.
Our main purpose is to make your static website more effective on the mobile device by following user-centric approach.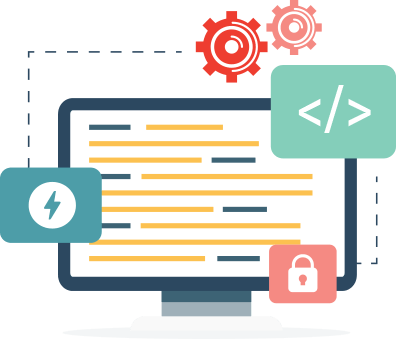 Brings Clients a Fortune with Real Results
With our persistent efforts and diligent work, we have been successful in pleasing more than 10000 clients. We have reached several milestones and obtained a lot of appreciation from our valuable clients. We are a proud web development company. We've served many world's brands with innovative solutions.
icon coca cola
icon necco
icon stoli
icon hp
icon duracell
icon dlink
Factors That Make us an Ideal Partner!
iso icon
magento certified icon
shopify partners icon
nasscom icon
silicon india icon
mailchimp icon
Let's Discuss Your Project